St. Margaret's Ladies Sodality Blessing of the Fleet Quilt
A Tradition and Work of Art
(shown is the 2015 quilt)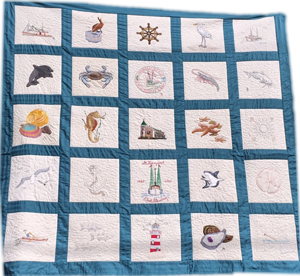 In 1988, members of the St. Margaret's Ladies Sodality had an idea that a Fleet Blessing Quilt would help raise money for their charitable undertakings. The first quilt started a tradition that continues today.
Each year's quilt is unique but always has a nautical theme. There are beautiful hand-embroidered shrimp, crabs, fish, boats and other nautical items. Each square is lovingly embroidered by the Ladies of St. Margaret's Parish. Many hours of hand work go into the creation and stitching together of this beautiful heirloom piece.
Raffle tickets can be purchased all weekend and a drawing will be held at the annual Blessing of the Fleet on Sunday at 4pm.